Your personal, affordable ice bath/cold plunge system
Regular price
$997.00 USD
Regular price
Sale price
$997.00 USD
Unit price
per
Sale
Sold out
Pre Order,Ship On Oct 10
No ice required, simplifies ice bath/cold plunge process

Precisely control water temperature cool down to  41°F (5°C)

Portable compact size and weight, Suitable for indoor & outdoor use
Energy efficient, monthly cost around $10-$22 (at $0.17 per KWh)

Great value at an affordable price(Under $1,000)compared to similar products
Fast Worldwide Shipping

Backed By a 1-Year Warranty

30-day Money Back Guarantee
About Recoverfun Cold Plunge Core

Experience refreshing, revitalizing cold plunges anywhere with the new Recoverfun Cold Plunge Core. This affordable and portable system makes ice baths easy and accessible for cold plunge enthusiasts.

The Recoverfun Cold Plunge Core includes the compact Recoverfun Pod that's easy to set up and take on the go. It seamlessly connects to the Recoverfun Chiller(1/3HP) which quietly and efficiently cools water down to around 41°F (5°C) for as little as $10-$22 per month in electricity costs.

Together, the Pod and Chiller provide the full cold plunge experience for under $1,000 - much less than similar systems costing up to $5,000. The Recoverfun Cold Plunge Core finally makes frequent cold water immersion affordable and convenient for home use or travel.

Reap the rejuvenating benefits of ice baths anytime, anywhere with the new Recoverfun Cold Plunge Core. Boost mood, immunity and recovery without the hassle and cost of traditional cold plunge setups. Take the plunge wherever life takes you!
Cold Plunge(Ice Bath) Benefits

Improved circulation - Cold water causes blood vessels to constrict initially, and then dilate rapidly afterwards. This helps pump blood and oxygen throughout the body.
Reduced inflammation - Cold water immersion may help reduce inflammation in muscles and joints by constricting blood vessels and flushing waste products. This can help with recovery after intense exercise.
Enhanced immunity - Brief cold water exposure activates the sympathetic nervous system and causes the release of norepinephrine. This may give a boost to the immune system.
Increased energy - The cold shock of the plunge causes the release of adrenaline and endorphins, which can leave you feeling invigorated. It also causes an increase in noradrenaline which can make you more alert.
Improved mood - In addition to the endorphin rush, cold water immersion has been shown to stimulate serotonin and dopamine release in the brain to elevate mood.
Increased willpower and resilience - Ability to withstand the extreme cold can build mental toughness and self-discipline.
Weight loss - Cold water immersion may help increase metabolism and activate brown fat, which helps burn calories. However, results are modest and temporary.
Better sleep - The cooling effects may help lower core body temperature which can prepare the body for restful sleep.
Powerful Features

No Ice Hassles: Eliminates the need for inconvenient and messy ice, simplifying the cold plunge process.

Precision Temperature Control: Chiller precisely cools water down to 41°F (5°C) for ideal cold therapy benefits. (Temperature Slightly varies by climate)

Ultra Portable: Compact size and weight make it easy to use anywhere - both indoor and outdoor.

Energy Efficient: Runs on minimal electricity, with monthly costs of only $10-$22.

Great Value: An affordable price under $1,000 compared to similar cold plunge products.

Quiet Operation: Designed to run quietly for disturbance-free use.
Specification

Recoverfun Pod
Diameter: 80cm (31.5 inches)
Height: 75cm (29.53 inches)
Capacity:320 liters (84.53 gallons)
Empty: 3.5kg (7.72 pounds)
Full: 320kg (705.48 pounds)
Suitable for heights up to 6'7" (2.01 meters)
4 x thermal-insulated TPE layers
2 x Aluminum foil layers
Rip-stop Polyester fabric strengthened external layer
UV resistant, skin-friendly PVC inner lining


Recoverfun Chiller (1/3HP)
Model: RF-300
Electrical: 110V, 60Hz
Cooling Capacity: 1/3 HP (280W)
Lowest Temp: ≈ 41°F (5°C) Slightly varies by climate
Cooling Water Volume: ≤80 Gal (300 L)
Continuous Operation: 24/7 Operation Allowed
Net Weight: 31 lbs (14 kg)
Dimensions: 11.4" x 11.4" x 12.6" (290mm x 290mm x 320mm)
What's Included?

Recoverfun Pod includes:

1 x Cold Plunge Pod
1 x Thermo Lid
1 x All-Weather Cover
6 x Sturdy Support Legs
1 x Hand Pump
1 x Drain Hose
2 x Transparent Repair Patches
2 x Drain Down Taps(for inlet and outlet)
1 x Carry bag
1 x Year Limited Warranty (Cold Plunge Pod )
1 x Month Limited Warranty (Top Ring of the Pod )
1 x Month Limited Warranty (Thermo Lid )

Recoverfun Chiller includes:

1 x Recoverfun 1/3HP Water Chiller
2 x Hoses with Extra EVA Insulation
5 x Hose Connectors
1 x Water Filter Set (External In & Out)
1 x Water Pump
1 x Standard US Power Cord (Compatible with the shipping country)
Complete Set of Essential Accessories
User Manual
1-Year Warranty
Share
View full details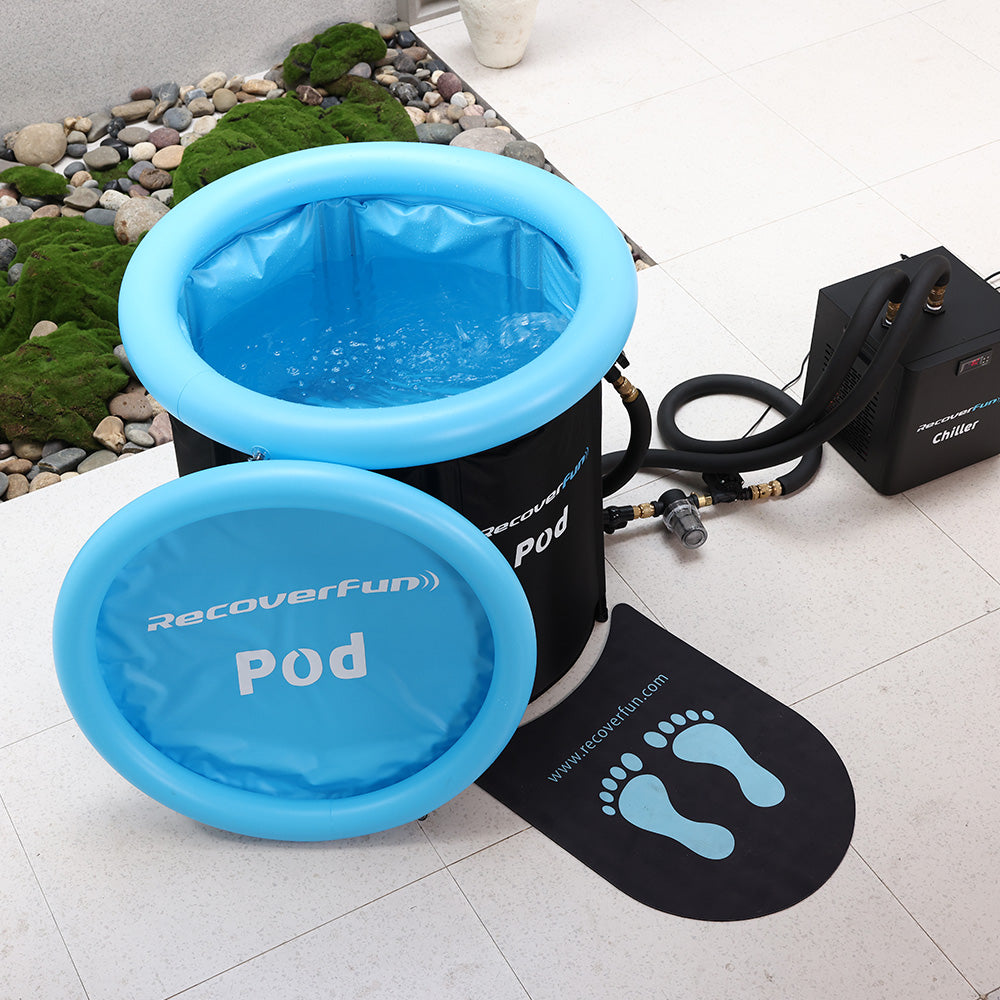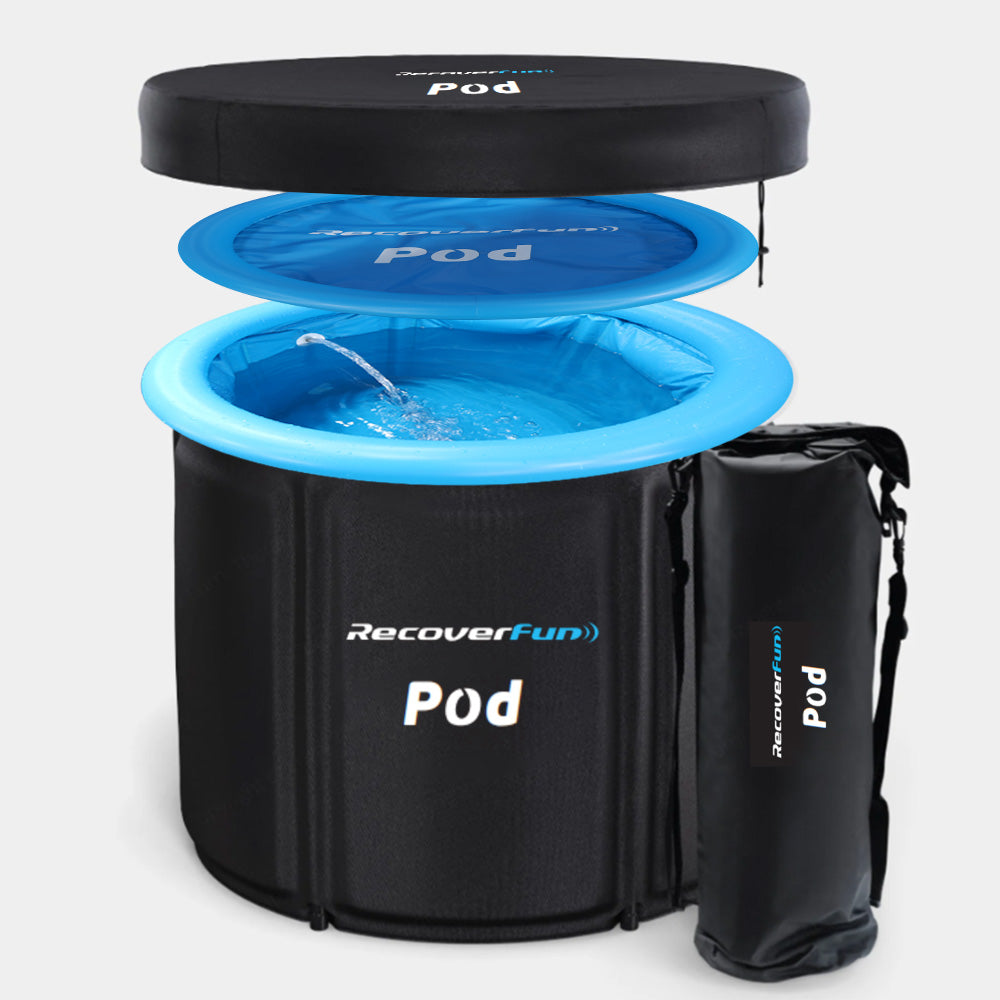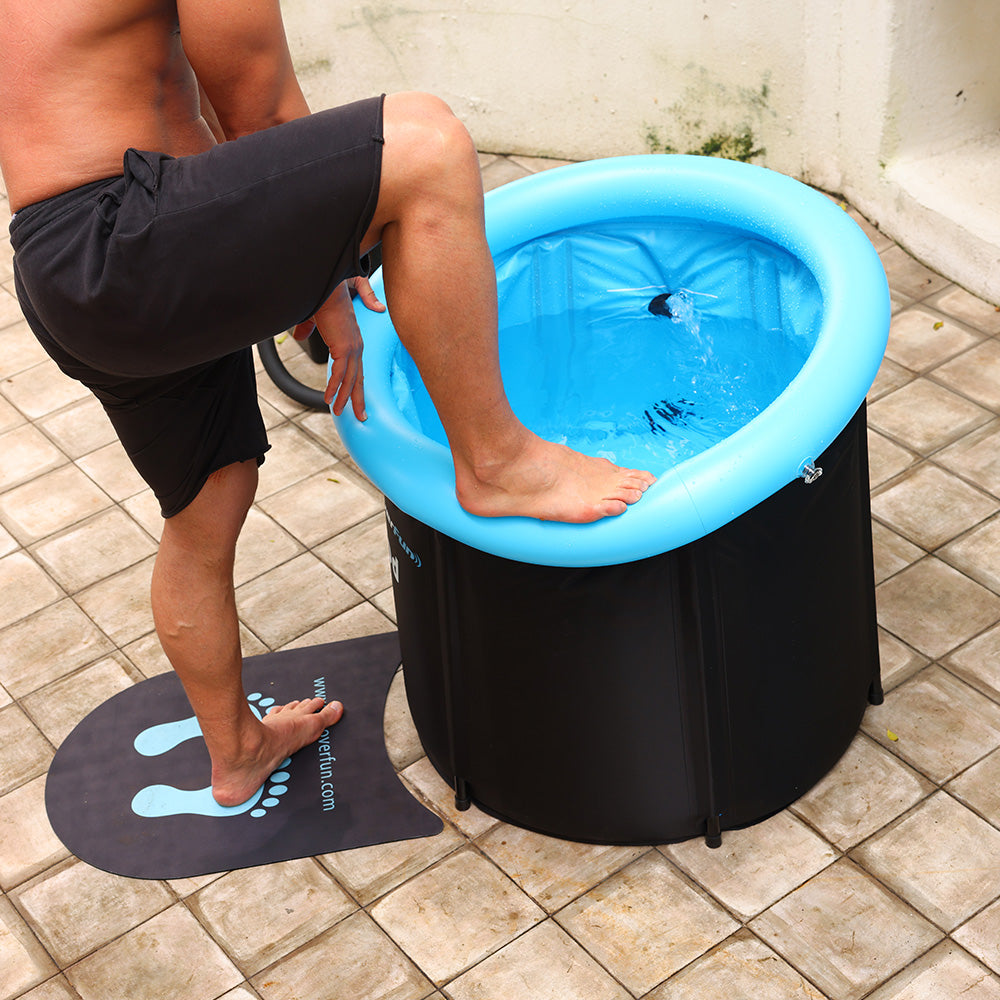 Recoverfun Affordable Cold Plunge One-Stop Solution
Enjoy the benefits of cold water immersion without the hassle of preparing ice or finding a place to do it
No Ice Needed

Precisely Temp Control

Portable Compact Size

Low-cost, High-efficiency

Affordable (Under $1,000)

10 Minutes Setup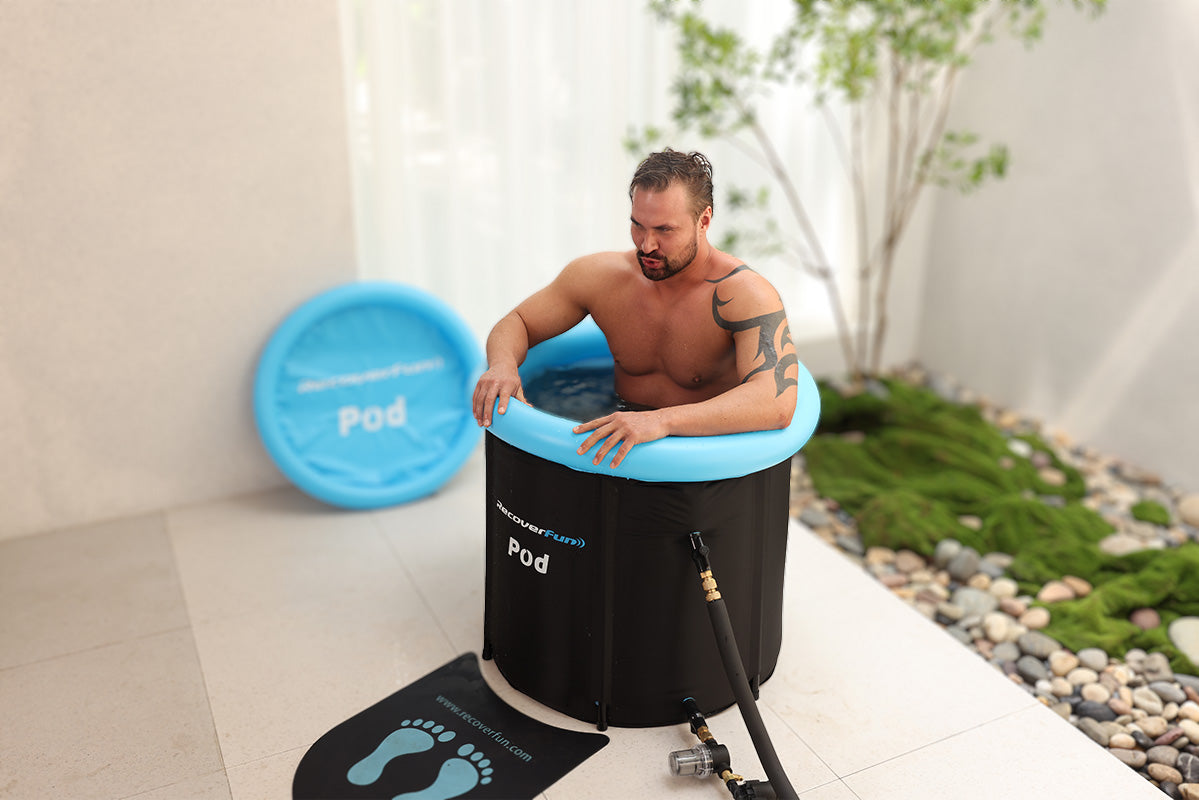 Recoverfun Pod
The Recoverfun Pod is the ultimate portable and affordable ice bath for cold water therapy. It is made of 7 layers of eco-friendly insulation and can fit one person up to 6'7" (2.01 meters). The pod has drain and fill ports for convenient compatibility with many kinds of cold chillers.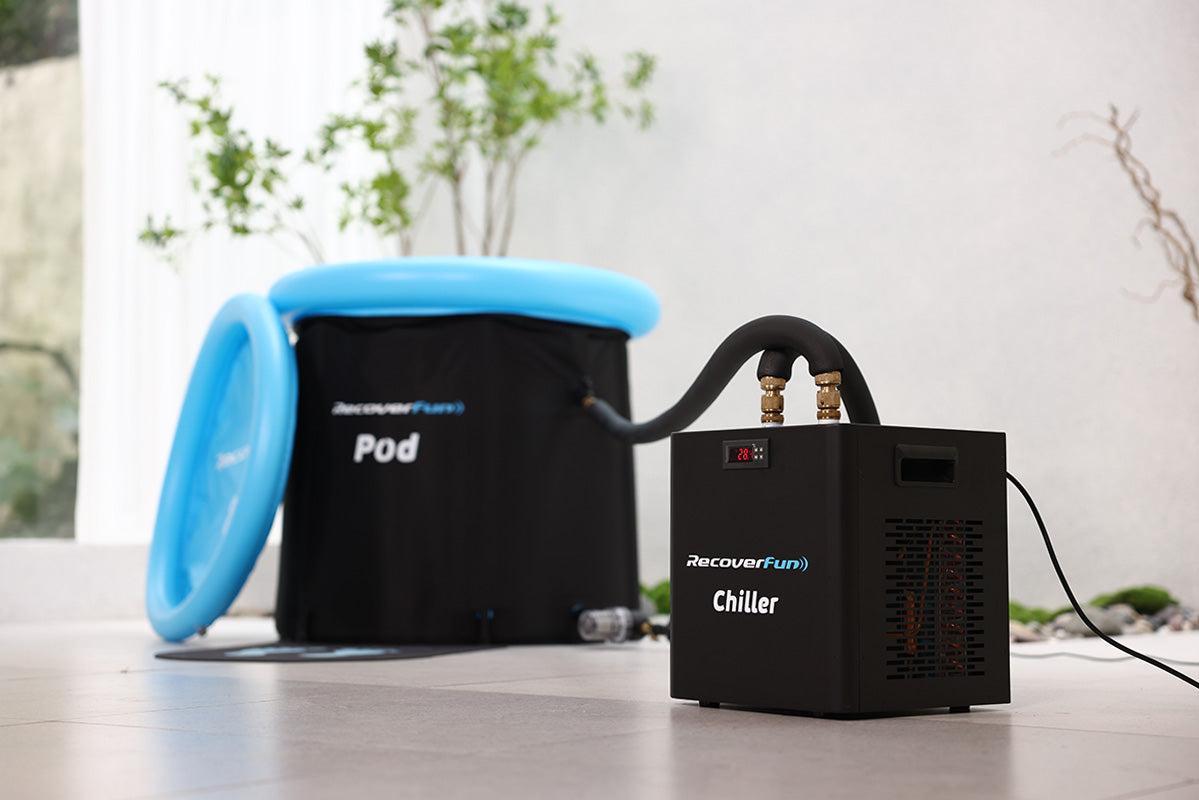 Recoverfun Chiller
Experience the rejuvenating benefits of cold therapy without the hassle and cost of ice. The RecoverFun Chiller eliminates messy ice bags and expensive installations. Our compact unit cools water down to 41°F (5°C), assuming room temperature is around 77°F (25°C), letting you conveniently enjoy cold immersion at home or on the go.
SHOP CHILLER only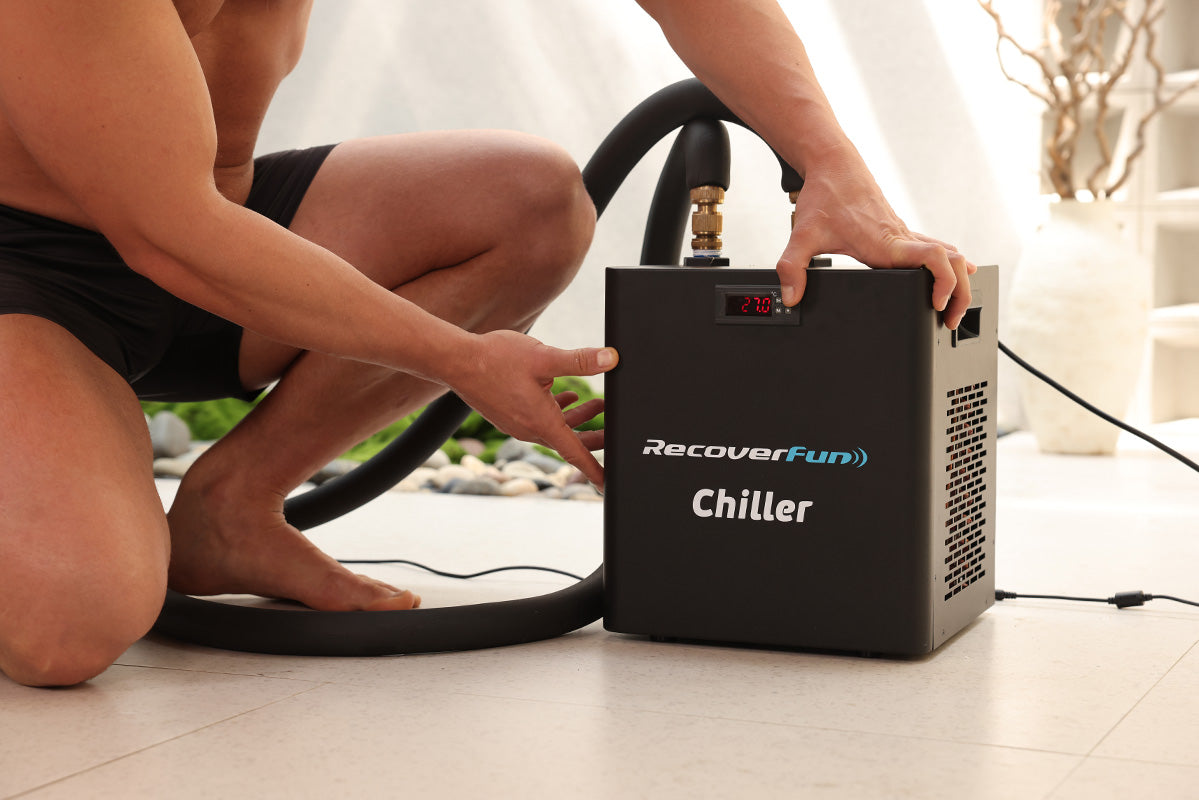 10-Minute Set-Up
Our cold plunge therapy system features a lightweight, simplified construction that packs down small. Just unpack, unfold, connect the quick-fit hoses, and fill up in only 10 minutes. Our ultra-portable cold plunge kit lets you rapidly set up refreshing cold plunge therapy anywhere.
SHOP NOW
Cold Plunge Baths Health Benefits
A quick 5-minute cold plunge is like a 30-minute meditation, completely revitalizing your nervous system. It's a total reboot for both body and mind.
Overall Health

Pain Relief
Enhanced Circulation
Increased Metabolism
Boosted Immune System
Improved Lymphatic Drainage

Mental Health

Better Sleep
Enhanced Focus
Stress Reduction
Mental Resilience

Muscle Recovery

Joint Relief
Muscle Recovery
Reduced Swelling
Faster Injury Healin
Delayed Onset Muscle Soreness
Recoverfun Pod FAQs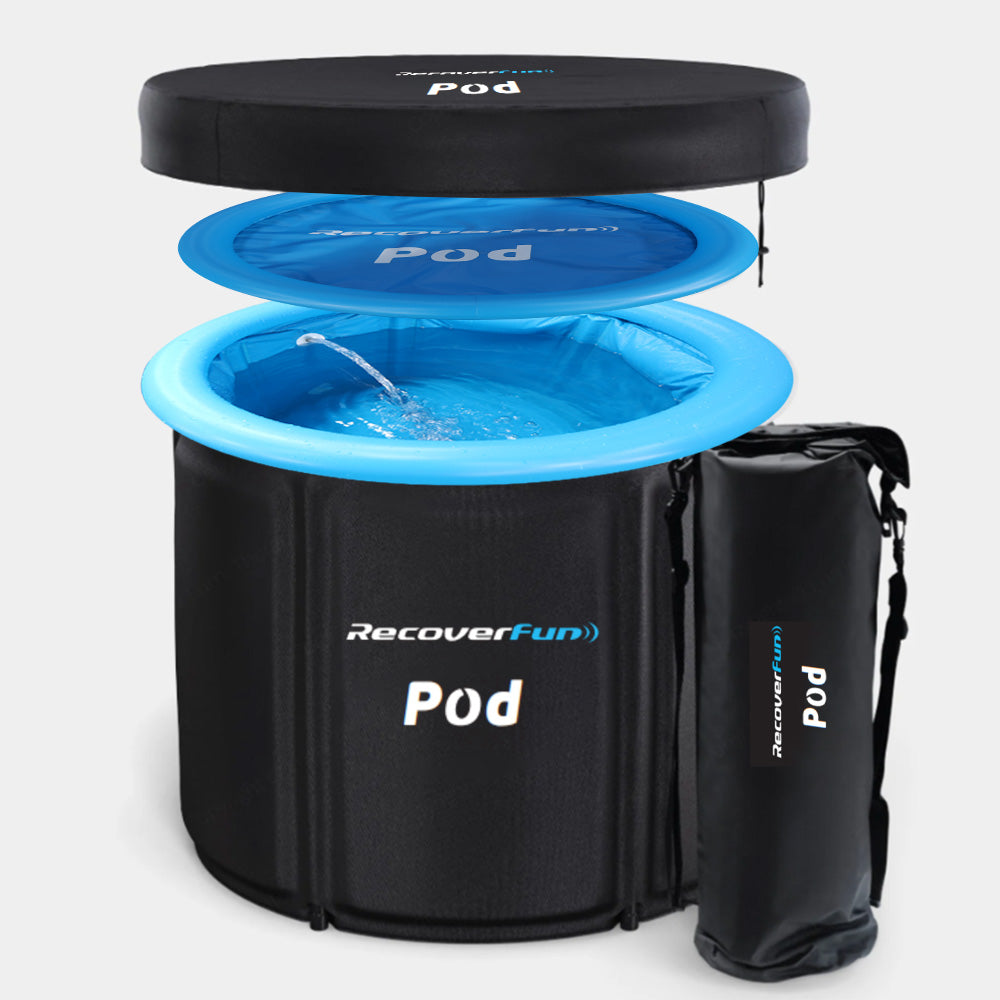 Can I utilize an outdoor cold plunge bath?

Yes, you can use an outdoor cold plunge bath, but it is important to protect the pod from weather elements.
What is the recommended water temperature for a cold plunge bath?

The recommended water temperature for a cold plunge bath typically ranges from 46-60°F (8-15°C).
Does it come with a lid?

Yes, it does! The Recoverfun Pod includes a Thermo lid, and an all weather cover.
How easy is it to fill up?

Topping up the bath is incredibly simple! One need only make use of a hose, pail or vessel to pour in ambient temperature water. Upon reaching roughly 65 percent full (in the ballpark of 200 liters, as our tub walls feature fill limit markers, considering the notable volume displaced when submerged, we recommend capping at 200 liters), you will be prepared for your inaugural dip!
How does the Recoverfun pod maintain low water temperatures?

The Recoverfun pod is upgraded with 4 thermal-insulated TPE layers and 2 aluminum foil layers, creating a total insulation thickness of approximately 10mm. It also comes equipped with a matching 10mm thick Thermo lid and an all-weather waterproof and sunproof cover.

The multiple insulation layers work together to provide excellent thermal protection, retaining cold temperatures even in hot ambient conditions. The thick TPE and aluminum materials create an effective barrier that prevents heat transfer into the water. Meanwhile, the insulated lid seals in the cold air at the water's surface. With the added outdoor cover, the pod is able to maintain optimal ice bath temperatures for extended periods of time.
How should I maintain my cold plunge bath?

Maintaining your cold plunge bath in a clean and well-kept condition is essential to ensure an optimal experience and prevent the growth of harmful bacteria. Regular cleaning and proper storage can help prolong the lifespan of your tub.
How long should I stay in the cold plunge bath?

The length of time you should stay in the cold plunge bath will depend on your individual tolerance. It is recommended to start with short durations (1-3 minutes) and gradually increase as your body becomes accustomed to the therapy.
How do I keep the water clean?

Always keep the lid on when not in use, to help prevent any debris falling in! We recommend changing the water once per week without any additives. When you drain the water from your Pod, to extend the life of your next fill, we recommend washing the inside surfaces with warm soapy water.
I am very tall, will I fit in the ice bath?

We've designed our bath to fit all sizes up to 2.0m tall (6'7"), whilst minimizing water and cooling requirements.
Recoverfun Chiller FAQs
Can the chiller be situated outdoors?

Affirmative, its IPX4 splash-proof rating permits outdoor installation, ideally in shaded or sheltered areas to maximize cooling efficiency and component longevity.
Will the chiller increase my electricity expenses?

Do not worry, the chiller will not significantly increase your electricity bill. Its power consumption is quite low, only 280 watts, similar to an average household refrigerator. For example, with room temperature at 77°F (25°C) and the chiller water set to 45°F (7°C), it will use around 1.5-2.0 kWh per day (24 hours). Considering the average electricity rate in the US is $0.25 per kWh, operating the Recoverfun Chiller continuously would cost approximately $0.50 per day or $10-$22 per month for electricity. Its efficient design ensures chilling water does not come at a high energy cost.
How much will the chiller reduce my ice expenditures?

Presuming 3 weekly ice baths requiring 10-20lbs of ice, return on investment for the chiller occurs within 6–9 months, rendering it a prudent financial and temporal investment for habitual cold plunges.
What is the recommended water filter cleaning frequency?

We counsel sanitizing the affiliated water filter weekly. Simply extract and rinse it with a brush under running water.
What is the chiller's noise emission level?

The water chiller operates very silently at approximately 35-45 decibels, comparable to a refrigerator.
Will salt compromise the chiller?

Negative, the titanium piping renders it compatible with saline seawater.
Is the chiller accompanied by a warranty?

Affirmative, the Deep Dive Wellness Water Chiller includes a 1-year warranty effective from the date of purchase.